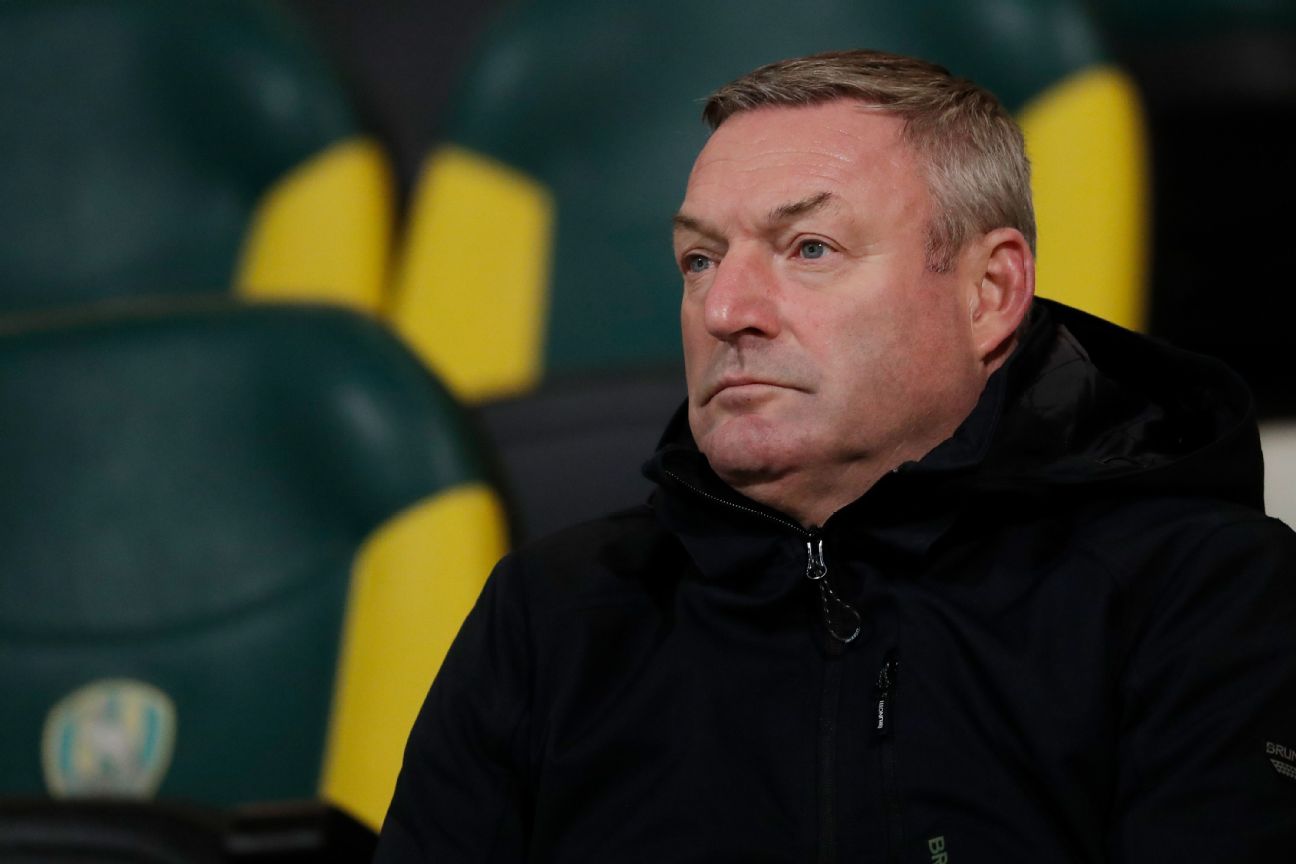 FC Cincinnati coach Ron Jans has resigned amid investigations into his alleged use of a racial slur.
The club, which confirmed his departure in a statement Tuesday, had previously told ESPN that Jans "stepped away" from coaching duties while the investigation was ongoing.
"As Major League Soccer's investigation unfolded and some themes emerged, Ron offered his resignation and we agreed that it was the best course of action for everyone involved with FC Cincinnati," club president Jeff Berding said.  
"We place the utmost importance on a strong culture within our club, beginning in our locker room, and that every person connected with FC Cincinnati feels valued, respected and trusted. Racial and cultural diversity is a major part of what makes the game of soccer so special, and we place the highest priority on respecting every person involved in our game. This includes absolutely everyone associated with our club, from our locker room and front office, all the way through to our fans."
Jans, a native of the Netherlands, told ESPN that he used the N-word during a training camp in Arizona while singing along to a hip-hop song. He said he was immediately pulled aside by defender Nick Hagglund, who told him that it was a cultural taboo for a white person to say that word in America.
"I always walk into the locker room and have some talks and there's always music and I'm interested in music," Jans told ESPN. "I also know a little bit about hip-hop songs and maybe I do impulsive things. Sometimes I like to show that I'm interested in that culture and support people against any kind of discrimination and even racism. I hate it. But I did a clumsy thing and I realized that and I apologized for when I hurt people's feelings. But it wasn't addressed to someone. It wasn't in bad intention."
MLS Players' Association executive director Bob Foose released a statement on Tuesday claiming "the narrative that the conduct here involved singing along to song lyrics is completely false," and accused Jans of creating a toxic atmosphere within the team. Jans also acknowledged to ESPN an incident that took place last October during a team talk prior to a game against D.C. United. In that talk he brought up slavery as an example of overcoming adversity.
"The pattern of conduct of the former FC Cincinnati coach fell far short of acceptable standards, and created an untenable and unfair working environment for our players," the MLSPA statement read. "We appreciate the swift and thorough investigation conducted by the league into this matter. We are grateful for the many values that we share, chief among them the importance of inclusion, and we applaud the manner in which the league has worked to uphold these values.
– When does the 2020 MLS season begin? All you need to know
– Stream MLS games LIVE on ESPN+ 
"At the same time, we have been incredibly disappointed by the attempts to manipulate the public conversation over the last few days with false narratives and strategic leaks to the press. For example, the narrative that the conduct here involved singing along to song lyrics is completely false, despite the former coach's recent assertions. Also false is the narrative that a complaint was filed by any particular player or players. These intentional falsehoods have added to the toxicity of the atmosphere and encouraged further, deplorable abuse of players. They were clear attempts to manipulate the truth and intimidate those who call out unacceptable behavior."
ESPN's Taylor Twellman had tweeted on Friday that Jans told Berding that the incident involved the coach singing a song in the locker room that contained the slur.
An ESPN source then confirmed a Cincinnati Enquirer report that the complaint included a reference to remarks Jans made about slavery after the team visited Washington D.C. memorials in advance of an Oct. 6 game against D.C. United.
"The Players Association was very recently made aware of extremely inappropriate comments made by FC Cincinnati coach Ron Jans," the MLSPA said in a statement at the time.
"We have made a report to the appropriate league officials and expect an immediate and thorough league investigation to be conducted."
FC Cincinnati are due to start the regular season on March 1. The club confirmed that Yoann Damet would serve as the club's interim coach until a new appointment can be made.
The team issued the following statement when the allegations were revealed:
"FC Cincinnati was founded and operates with three core values: (1) being inclusive and family-friendly, (2) having a strong and visible presence in the community, and (3) winning on the field.
"When club leadership was made aware of the allegation, we were very surprised as building a caring and committed culture has been a focus of Ron's leadership. We want to fully understand the nature of the incident and allow for an environment for our players to speak freely to any locker room issues. Therefore, while both the Club and Major League Soccer work together, Ron will step away from the team during the investigation."
Jans took up the role last August but didn't experience much success, with the team finishing bottom of the Eastern Conference in 2019. 
ESPN FC correspondent Jeff Carlisle contributed to this report.